A day on the sea

Iíve met a travel mate aboard the ship. Heís name is Assar and he transports motorbikes from England to Sweden.
We have watched films today and been out on the deck walking and trying to lean against the wind as much as possible.

The ships engines stopped for a short while, the lights went out and she started to drift. It was a little bit exciting, but after 20 minutes we were on the right course again with running engines.

The chef served a very nice three-course supper tonight with smoked fish, bacon wrapped steak and apple cake with ice cram.

Tomorrow I will arrive to Gothenburg. I then have to find wood for the car to be able to go back home. I will under no circumstances run on petrol!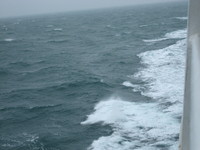 Click here to see a film from out on the big sea.
/Johan