Yesterday evening Magnus and Stina had a small party with lots of nice food. Afterwards we went out and processed wood. We did about 0,4 cubic metres and leaved the rest to Magnus. We now have more than enough to make it south of Gothenburg.

Click on the image to see a film when we are processing wood.
There was I miniature gathering for Volvo 140:s this morning. Stina started her Volvo 142 and Kenneth came with his 145. It was really cosy to see so many beauties in different colours. Stina was in a good mode and skidded with her car in the grass. We were really impressed!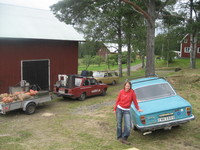 Click on the image to see a film when Stina skids in the grass.
Thank you, Stina and Magnus for letting us stay with you! You're really nice and cosy people!
We have continued the trip to Bohuslän. The engine suddenly loosed all power. We found that it was the throttle switch that had drifted out of its right position.
I have been making a random control of carbon monoxide inside the car. The tests were executed in the backseat and close the driver's head without any signs of the gas.
We've now stopped at a hostel in Skärholmen, in the province of Bohuslän. We're going to stay here until tomorrow, when we will be going down to Gothenburg.
/Johan