We're now on the marine museum in Gothenburg. We drove from Skärholmen this morning and we have been using moistly wood. It almost seems like the car runs better on it, than dry wood for the moment. The car ran like a cannonball on the E6 to Gothenburg.
We found a nice parking spot next to the museum and we were invited by the museum maintenance staff to wash our selves at their workshop. We've been looking at the destroyer "HMS Småland" and lots of other ships. It was really nice to feel that sweet smell of old military vessels. There is going to be a gathering for old veteran cars here later today, so we're going to stay until the evening and participate. Then we will continue to Janne in Kungsbacka, south of Gothenburg.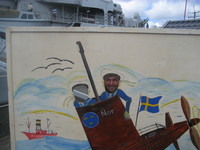 Click on the image to se a film from the museum.
/Johan