We're now on the ship M/S Tunia in Motala. The trip was good and we arrived 8:15 last night. Last summer I was engineer on Tunia and it was really nice to come aboard again and meet the captain Göran Nordberg and the seaman Tor Malmström. We have slept aboard the ship this night.
Today I will let Micke and Martin have a trip on the canal with Tunia while I'll be trying to get a haircut. Then I will drive to Borensberg and pick them up. But first I'm going to start the ships hot-bulb engine!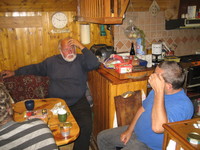 Click on the picture to see a film from yesterday evening aboard Tunia.
/Johan