The captain was in a hurry into the lock and I had to throw my self out of the ship before Micke, Martin and Tor cast loose.
Thy got a nice trip on Göta canal, while I walked around in Motala, looking for a hairdresser. I found a rally good girl called Sandra, and she knew exactly how to trim my sideburns!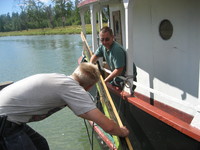 Click on the picture to see a film when Tunia is going through the lock.
When I was going to go to Borentsberg, the car wouldn't start. It had been running a little bit badly the last kilometres. I looked for faults in the ignition system and thought it could be the contact-breaker point. I adjusted it a little bit, and then the car started. I got some help from a guy called Christer Isacson. He cranked the engine while I checked for sparks.
We loaded wood from Tunia in Borentsberg. The wood has travelled a far distance from the suburbs outside Stockholm, through Södertälje and all the way down here. We only needed half of the wood, so the rest had to go back to Södertälje.
We left Tunia and continued up to Tarsta, where Lasse Toresson lives. He has built a couple of wood gas cars and the latest one is a Ford Transit. Lasse is good welder and he builds his wood gas systems of stainless containers and canteens. He has an odd solution to control the system. He uses controls from an outboard engine to change throttle and air mixture. We exchanged a lot of experiences and inspected each other's solutions. It was most interesting.
We're now in Flen and we are staying in a hotel for the first time on the trip. To morrow we will be going in to the capital of Sweden to take a round in the famous roundabout of Sergels torg. Then were going to Norrtälje.
/Johan