Congestion charge and driving wood gas truck

We started from Flen 10 a clock and reached Kungens kurva south of Stockholm just before 12 a clock. This is the first day for the new road congestion toll in Stockholm but environmental friendly cars are excluded from the toll. We picked up a reporter from Swedish radio and she was going to see if we had to pay the fee or if the car was accepted as an environmental friendly car. We drove in to the city through Fridhemsplan and 10 Swedish crowns were displayed on the toll station.

Ever since I started with wood gas, I have had a dream to stop in Stockhom city and fuel wood in a producer. Finally I got to realise this dream! A cyclist that past us nearly fell of when he turned his head 180 degrees to see what we were doing.

There was a wish in the guest book from someone who wanted us to take a couple of rounds in the Sergels torg roundabout. We thought it was a good idea and we did three rounds. We then drove the reporter back to the Swedish radio house. The interview was sent on the quarter-to-five news and it turned out that we didn't have to pay the toll.

Click on the picture to see when we drive in Stockholm.
We stopped and ate food in Stockholm. Then it was time to continue the journey North again on road E18 towards Norrtälje. The car has been running very well and sometimes like a cannonball. Now it ran like a monster and the overtake statistics increased dramatically. The car probably wanted away from Stockholm and out to the country again. It was awfully hot in the backseat and Micke sat half naked, sweating and flickering.
We are now in Röksta, just North of Norrtälje and we are staying at Axel and Maj Pettersson's place. Axel has an old wood gas truck and tractor. His daughter Inga and her husband Kent was also present as we arrived here. They had two gifts for us. Kent had chromed strips for the car that Micke later mounted on the car. Axel gave us a matchbox each, with wood gas matches from WWII.
We have had some problems with the break again. It has been stuck and there was nothing left of the blocks. Martin loosened the brake shoe while Micke went with Kent to look for break blocks. They found one of those back axels in the backyard and of course there was two break blocks that would fit on the Volvo. We have another problem that is a bit scarier. The clutch has begun to skid and we are not sure that it will last to Furudal.
Maj and Inga served us really nice food from Roslagen – the area around Norrtälje. The starter was homemade pickled haring. Then we got moose- and wild boar steak with sauce, cowberry jam and fried yellow chanterelle. The dessert was blueberries in milk. It was really nice! Thank you so much Maj and Inga!
It was time to start Axel's wood gas truck – an old restored Volvo from 1940. Axel uses a pressure fan instead of a sucking fan. He has the hatch open while lighting the producer and the start-up is very quick. We soon had the truck running and we got a ride in Roslagen. We changed driver and I had a go in the truck. It was absolutely wonderful! Double clutching and a maximum speed of 60 km/h.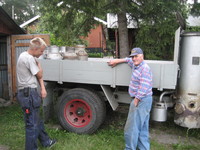 Click on the picture to see a film when Axel starts and drives his truck.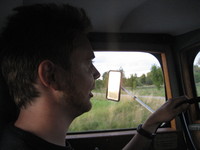 Click on the picture to see a film when I drive the truck.
/Johan