We spent the night in our tent. Martin has counted the times he got awakened by passing trucks, which was 20 times. Micke and I have slept all the better. In the morning Linda served us breakfast and then it was time for sightseeing in Arvidsjaur. The filter was cleaned before start and I got out a litre of soot.
Arvidsjaur is an exciting and fun place. We started with walking the main street. There were Saami people with turbans and moose that you could balance on. I just had to try one! I dared the small one, but the big ones was a little bit too high for my guts.
Linda is a Saami her self and she showed us the "Saami town", an old trading place where the Saami people exchanged merchandise. The earliest buildings in the Saami town comes from the seventeenth-century.
After this we drove up to the vantage-point, where we got a nice view over the town.
We tried a specialty from Arvidsjaur, concerning burgers. It's called a hedgehog-burger, and consists of a hamburger pinned with fries. It's recommended for those who are a little extra hungry.
Thanks for nice company Linda!
We are now in Porjus, on our way to Gällivare. Micke and I have bought dried reindeer-meat, which we are enjoying. The car is running very well and the weather is hot!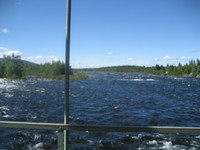 Click on the image to see a video about today's travel on highway 45.
/Johan