Potato harvesting

The nights are beginning to get cold and frosty. Time to take up the potatoes. Jane and I began with preparing the earth cellar while my mother prepared potato sacks and picking equipment. The earth cellar hasnít been used in several years and it needed some restoration and cleaning before we could use it. The good thing with an earth cellar is that it uses the rather stable temperature in the earth to conserve the potatoes. It doesnít consume energy for cooling or heating.

I started the tractor when we were done, and brought out the cart to the field to be able to load the full potato sacks. I then went to get our spud picker. The spud picker plows the rows and throws soil and potatoes to one side. This separates the potatoes and makes them easy to pick. There was a lot of problems with the picker, so I decided to borrow my neighbor Rubenís picker instead. His spud picker is powered from the PTO (tractor) instead of itís own wheels, so you can drive slowly and still have a good separation of the potatoes.

We discovered that the yield was going to be really good after a couple of rows. Many potatoes were huge. Some of them were ďrustyĒ though, especially in the upper part of the field. We sorted the potatoes depending on quality.

The potatoes must dry before they are put to storage in the earth cellar. We left the sacks outside on the cart over the night and then bought them in to the cellar in the morning. They were covered with blanket to protect them from freezing.
Click on the picture below to see a film from the earth cellar and potato harvesting.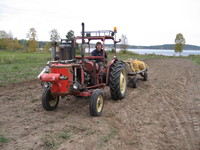 We picked potatoes for three days. Our backs hurt, but the earth cellar has never been so full, so at least we donít have to starve this year ;-)
/Johan