We stopped in Boden and loaded 1/3 cubic metre of wood. We also met a friend and a guy who called us and wanted to see the car.
Micke has been missing the archipelago, so we continued past Luleå to the sea. We looked for somewhere to camp and a place called Alhamn looked nice. In Alhamn we met Leif and Lisbeth Cullberg who invited us to camp on their property. They lent us their barbecue which was made of an old water tank. The view of the sea was beautiful and Micke was really happy.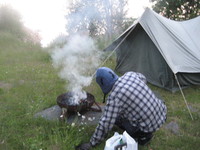 Click on the image to see a film from Alhamn
Reporters from a newspaper covering the north of Sweden came and interviewed us in the morning. Before they came, we had time to look at an old producer from WW II, which Leif has on his property. It had been used on a tugboat called "The hunter". It towed wood on float boats from the islands in to the mainland. If someone wants what's left if the producer for a museum, you are welcome to contact Leif.

Click on the image to see a film when Leif talks about the producer.
About 1100 a clock we continued south. We travelled a bit on road E4 and then drove on to road 364. We are short on wood and it's going to be exciting to see if we make it to Vännäs.
/Johan