Menu

Start

How it works
About us
The car

The roadtrip
Travel blog
Travel plan
Technical evaluation
Media compilation

The construction
Construction blog
Photo album
Film

Guest book
Links
Contact


To Swedish version


Welcome!

We started to build the car on New year's eve and many days, evenings and nights were sacrificed during the spring, to make the wood gas system and car working. We got a mishmash of Swedish cultural heritage that witnesses of traditional Swedish car industry, a tough war and "farmers resourcefulness". The car took us 5420 km in 20 days, using 7 square metres of wood.




On our site, you can read about the whole project, building the system and the trip around Sweden.

We have put a lot of time and hard work into this, so please enjoy! Also write something in the guest book. We love hearing from other countries!


News

New domain
vedbil.com

Carbon neutral farming updated 28/9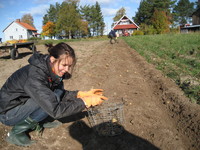 The Big Race in SVT
(Click here for info)

Blogs

More blog

Travel blog
Construction blog