Harrowing

The frozen ground melted a week ago and the soil was pretty dry, so I decided to start harrowing the cropland today while I have time. I borrowed my neighbor Rubenís harrow, which is broader than our one. This is going to be really exciting, because it will be a good test to see how strong the tractor is on wood gas and how it will perform in the cropland. I prepared a fuel log to keep track of the fuel consumption.

I started with fir wood in the tank and the tractor performed ok but not really impressing. I then fueled with birch and felt an increase in power as soon as it began to combust in the gasifier. I was now able to use high gears on the dry parts of the land while the more clayey land near the lake was rougher and needed low gears.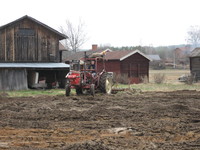 Click here to see a film from the harrowing.
When done I calculated the fuel consumption to 60 liters of wood per hour.
/Johan