Haymaking

Jane and I have prepared the barn and installed the hay transporter yesterday. The weather forecast showed high risk of rain from Thursday, so we were a bit stressed about getting the hay inside.

We gave the first field a round with the tedder. The field has some areas with thick clover and itís important that the hay gets turned so it dries properly. Jane got to practise some more tractor driving and she sure enjoyed it! The second and third field had to wait.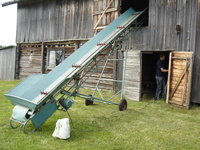 Click here to see a film from the preparing and turning hay.
/Johan
Today I made some more tractor driving. With the tedder connected to the tractor I prepared the hay by lining it up for the hay-baler. Meanwhile Johan were doing some welding repairs on the hay-baler and prepared it for use. Thereafter Johan fetched a hay-wagon. Johanís brother Jan-Erik and I took place in the wagon and the baling could begin. The tractor was running well as always, but the baler broke a couple of times. Fortunately, Johan quickly repaired it. I would estimate that about forty percent of the growth was baled today.
This is the first time ever that I participate in a harvest. Itís hard work and you get pieces of hay everywhere, in your eyes and inside your clothes. But at the same time, itís real fun, especially driving the tractor. Something else thatís fun is the fellowship that occurs when people work together like this. Johanís mother Anita helped us, both with good advices concerning the hay and a helping hand at the barn. And so did her cousin Ingemar.

Click here to see a film from bailing hay.
/Jane