Stacking hay

Itís been raining heavily yesterday and we had to cancel the hay harvesting. The hay on the last mowed field is in danger of getting destroyed if the rain will continue. But there is a way to save it!
This farm used to belong to my grandpa and grandma and they ran it from the 30ís to the 80ís. In those days they had another way of drying the hay when the weather forecasts were unsure. I still remember from when I was little, how we used to stack the hay in drying racks. When the hay is dried in racks, itís a lot more insensitive for wet weather. The racks are old and have not been used in several years. But they are still functional, standing protected under the trees.

There is a special technique when stacking hay. The racks easily falls and the hay blow off the racks if done in the wrong way. Fortunately my mother still has the knowledge about how to do it the right way.

We distributed the racks to different places in the field and then I connected the old hay rake to the tractor. HŚkan Ė a friend of our family was bicycling past our land when he saw us stacking hay. He used to do the same a long time a go and came to help us and relive some old memories.

We made five stacks and it started to rain again immediately after we were done.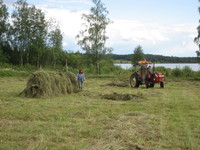 Click here to see a film of the hay stacking.
/Johan