Bringing in the hay

Itís been sunny and nice weather for a couple of days. The stacked hay has dried and we brought it in today. Rain spoilt only 15% of the hay, thanks to the stacking method.

I found a couple of my grandparentís photos from the 50ís. Some things changes, others donít.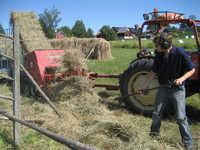 Click here to see a film from todayís work.
Next on schedule is a harvesting party with some fresh potatoes and nice food.
/Johan