Visiting Werner

We celebrated yesterdays third place in the race by eating some very nice food at a restaurant in the evening. Martin and Micke continued to some pubs afterwards. A company in London that wanted to build a wood gas car had recently called me, so I had to go back to the hotel to work on the design for the system.
However, I didn't miss too much. When I asked Micke and Martin this morning, they said that they had been walking around the whole town, not finding a single girl to dance with.

We were supposed to go home now. But we had lots of time and wanted some more adventure. We decided to go south in stead and drive around the lake Vättern to Dimbo where Werner lives. Werner has been using wood gas for a long time and has built and used several systems. The one he has now is sitting on a Chevrolet with a V8 engine.

We arrived to Werner's home 3 in the afternoon. He showed us lots of exciting stuff that he has collected. He has some stuff from WWII, but most interesting was a wood gas unit from the 70's. It was created by Volvo during the oil-crises and was often seen on military vehicles. The gas mixer was made for Volvo engines and would have fitted right on, on our engine.

Now it was time for testing. We started with Werner's Chevrolet. It took about 10 minutes for him to start it and the roaring sound of the V8-engine was amazing! Martin and I hade a drive and it was really cool. When we came back, we had some coffee and tee.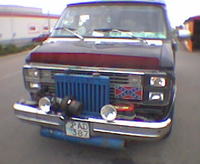 Click here to see a film when Werner starts his Chevrolet
Werner, his son and his friends were now going to have a ride in our car. But first he chopped some wood for us. I have never seen somebody so quick with a saw. He filled sack after sack and soon we hade enough wood to take us to Stockholm. Werner really liked our car and the electronic gas mixer impressed him.
It was time to go back to Stockholm and we took farewell. But we were going to see Werner again very soon. He works as a truck-driver and he was going the same direction as us with his truck. After a while we saw some flashing high beams behind us and we knew that it was our friend Werner. The weather was awful and it felt good to have him behind us. We had company a couple of miles and then we split in different directions.
We arrived to Stockholm 2:30 in the nigh and we stopped at favourite burger place before we went home to Micke to sleep.
/Johan