Wood gas in UK

A company from England called me a couple of weeks ago and asked if I could help them to build a wood gas car. I designed a system with a Werner producer, clay ball filtering and then helped them to construct it. The system worked very well and was a great success. Because of respect for the company's wishes I won't show you any pictures of the construction.

What I found out about London, is that it is very dense. Every spot is used to build houses and backyards are not too big. However, I met one man – Ken Boak, who has a quite big backyard and he has done something very special with it. Except all the nice scrap, he has a shed with his own bio-power plant inside. The power plant is a 1951 Lister diesel engine. He runs it on waste vegetable oil and it generates electricity to power parts of his house. The heat from the engine's cooling water is then taken care of and heats up his house.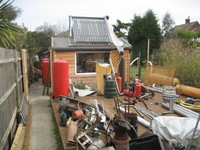 Click on the image to see a film about the system.
Working with Englishmen and Tasmanians are fun in many different ways. You learn a lot of cool words. I thought that you got your mouth washed with soap when you swear in Britain – that's what my au pairs told me when I was small. Apparently, that is not true! Or as we say in Britain: Ballocks!
English cars can be very small. I tried to get in a post car to have a ride with a guy called Pat. It was impossible and I gave up after a while.
Food was great! I had Grilled mix – a big plate of meat. Yorkshire pudding was fantastic, but watch out for Black pudding. It's not as good as the Yorkshire.
The highlight was to drive through London. It was the first time I drove a car in Britain with left side traffic, and of course it was in a wood gas car. One of my colleagues guided me through the city. Absolutely fantastic!
A big thanks the people that I worked with in London for a very wonderful time!
Cheers,
Johan