Sveriges mitt nådd!

We have continued from Vännäs, past Normaling and all the way down to Sundsvall. We have loaded wood at Marcus Almroths home. Unfortunately he was not home, but the wood was there as promised. Thanks Marcus!
I've discovered a new way to efficiently cook food while driving a wood gas car. Tests have been executed today with "Bullens sausage". With dry birch wood the tin can should be in the producer for 45 kilometres during medium engine load. The sausage den becomes just enough hot and the skin doesn't crack.

We were on our way to Ånge on road E14 when we decided to make a divagation and visit the middle point of Sweden. It's right on top of a mountain with a beautiful view. The steep road up on the mountain forced us to leave the trailer to be able to drive up. We drove as close the middle point as we could.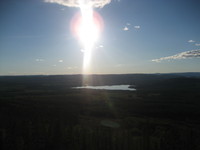 Click on the image to see a film when we are in the middle of Sweden
We have now stopped at Östervalls camping. I barbecued the last sausage on the excess gases when we'd stopped the engine. We have gotten a well-needed shower after three days. To morrow we will be going down to Sunne in Värmland.
/Johan