We're now in Bråsstorp, outside Sunne in Värmland. We are staying with Magnus and Stina and they have taken well care of us and we are planning to stay her one more night to rest and enjoy Värmland. We're eating breakfast just now and looking out on the beautiful scenery.
Yesterday's trip went from Östrvall south of Ånge, over Sveg, Särna, Sälen and Malung. It was really beautiful between the mountains with swamplands, old forest wood barns and telephone poles with blank bare wires.
In Ytterhogdal, we met Oliver Laporte and Soigic Drogueux from France. They had travelled from France through the Baltics, Russia, Finland and Sweden in a Citroën and are now on their way home. The trip is going to be 22000 km when they come home to France.
We exchanged some advice and experiences about travelling with old cars and how you solve upcoming problems. Micke inspected their two-cylinder air-cooled engine. Oliver told us that they had a cruising speed of 80 km/h and that it was sensitive for wind. They had some problems with the gasoline pump when they were in Moscow, but the car has functioned well most of the time
In Sälen we met a cool local that drives a Volvo 142 every day. He adds 50% ethanol to the fuel and has a adjustable carburettor.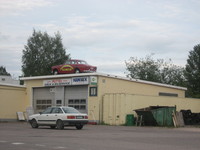 Click here to see a film about the Volvo 142.
/Johan