A very eventful day!

Last night we drove to Janne Willberg, just outside Kungsbacka. Janne is technically interested and has been working a lot with electricity and diesel cars. There are several interesting projects around the house. We got sausage casserole that Janne had made and it was delicious. After that, it was bedtime and we slept really dense.

This morning we have been working on the big pile of wood that Janne fixed for us. To get the wood enough dry, he has been drying it on his balcony with an electric fan that has been circulating the air. It was mostly rowan wood and it was quite easy to process, even though it was dry and hard.

There is a really steep road when going from Janne's place. There were a lot of kids playing around the road, so we didn't dare to accelerate to the maximum before the hill. We also had a full load on the trailer and it was impossible climb the hill. We decided to fuel a couple of dl of gasoline and with those extra horsepower it was no problem.

We invited Janne for a test ride and then it was time to continue our trip. Manny thanks to Janne for his hospitality with wood and food!

The trip continued to Anders Mannerholm just outside the nuclear power plant in Ringhals. His family met us when we came to his property. Anders whole barn and the area around it, is filled with different kinds of vehicle restoration projects. He has several buses that he has bought and restored. Just now he is working on a bus from 1948. It has mahogany interior and constructed, using airplane technology from WWII. Anders will drive the bus to Paris when it is completed.

He also has a Volkswagen motor-tractor with an Opel engine, Audi gearbox, Ford cardan joints and a Volvo carburettor. As he was showing us around, his friend Karl-Olof Andersson came with his Ford-tractor. We ate some food that Anders wife had cooked and then we went up to Karl-Olofs place to look at his projects. Besides motorbikes, hot-bulb engines and other fun machines, he has a tractor that is wood gas powered. The wood gas system has been sitting on a power generator aboard a minesweeper during WWII to power the magnetic sweeps. Anders bought this producer and a couple of more ones on the scrap yard for 50 Swedish Crowns (6 USD) in the 70's.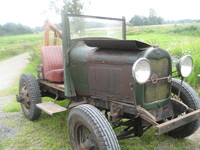 Click here to see a film about Anders and Karl-Olofs things.
We were running out of time for our next stop on our journey. But before we left Anders and Karl-Olof, it was time for some test drives. I drove one of my dream cars, which is a Volvo taxi from the 50's. Anders owns the car. It was difficult to change gear, but besides that it was wonderful to drive the car. The noise was low and you sat like a king in it. Martin tried Karl-Olof's Ford-tractor from the 20's and it was a great experience. We would like to see more of those vehicles out on the road. At last Anders and Karl-Olof got a ride in our car.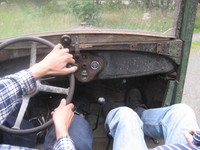 Click here to see a film when we are testing the wehicles.
Anders and Karl-Olof! Thank you so much for showing us all your projects!
We have now travelled down to Stellan Dahlberg. We have had a nice meal and Stellan lent us his hayloft where we have made beds of straw. The rain clatters on the roof and the electric fence energiser is ticking down in barn. Time has passed 0130 am and I feel that the dustman is going to hit me hard in the head with a sledge in a few minutes.
/Johan