Southern turning point!

We arrived at Smygehuk harbour and Swedens most southern edge 1145. We drove as far as we could, so that the high beam lights touched the seawall. It felt really good!

The contrast was spectacular. Maunu was mountain landscape full of small birch trees. Hear in Smygehuk, you see straight out in the sea – still the same country but so different views.

We stayed in Smygehuk for two hours and are now continuing the trip in northerly direction again. Next stop will be Hörby.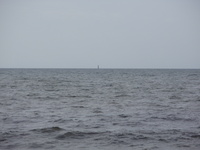 Click on the picture to see a film when we're in Smygehuk.
/Johan