Goaaaal!

5:06 a clock we rolled in on the parking of the ICA Näcken store in Furudal. There were about 15 persons there to meet us. Two of them were reporters from newspaper magazines. As usual there were more people gathering around after a while.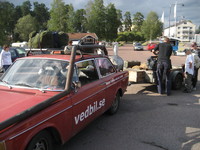 Click on the picture to se a film when we arrive.
It felt so strange. Suddenly we were on the exact same spot as we started. It was like you could se your self leave three weeks ago. I could step right in, in that sunny Saturday, the 14:th of July and live through the same moment again, but with the difference that all nervous feelings was gone.
It's suddenly possible to tell yourself in a situation where we have 5000 km in 20 days, in a car that we have built our own propulsion system on – "that it's going to go fine". That really increases your self-confidence and border for what's possible. When I think about it, there are tears coming from my eyes, and very special feeling accrues.
We did a last measurement of the wood consumption and fuelled the producer a last time to be able to drive home to the small village of Sunnanhed where I live. Martin calculated the total travel distance and it ended on 5420 km.
At home we have unpacked and restored some of the equipment used on the trip. There's a lot of wood left over.
We just watched the news on the television and there was a good story about our trip. Now we're watching a little bit of what we filmed on the trip while I'm writing this blog. It's very soon time to sleep. More evaluation and feelings will be displayed on the website when we have had some time to process this. Now, we just want to sleep!
;-)
/Johan