Northern turning point

We have continued our journey to Maunu and Karesuando. The hatch on the producer has been leaking a little bit, so we tried to put a cloth between the hatch and the producer. It seemed to work.
We drove on the luxury wood from Gällivare, and the car jumped up the hills! We have seen a lot of nice lilac flowers by the road. The landscape put in mind California with its sand and small trees.

We have had bad reception on our telephones, so we could not call our host when we came up to Karesuando. But the title-tattle in Karesuando is faster than broadband Intenet, so it didn't take long before Gilbert Niva and his cousin Jan-Erik Strömhult found us.

We got offered to borrow the sauna on the combined tourist-information, health-centre and employment bureau to wash our selves, which was well needed. Then it was time to drive up to our northern turning point, Maunu. It's where Sweden's most northern public road is located. Gilbert and Ulf Tuoremaa came with us to see that we really came to the right place.

Maunu is a small village just above Karesuando. It consists of a couple of houses with circa six people in three households. The road to Maunu was meant to stretch all the way to Norway, but the founding was not enough so the construction was aborted. That's why there is a sharp curve where the construction work ended. A little bit further up theirs is the end of the road, which is our goal.

We drove up a little bit in the grass at the end of the road so we would be certain that we had succeeded. Ulf and Gilbert inspected and gave their clearance. We took some pictures by the sign "End of public road" and as a ceremonial, we put some producer wood beneath the sign to mark our presence.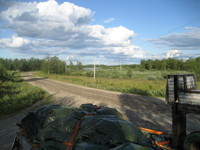 Click on the image to see a movie when we reach our turning point.
Afterwards we got invited home to Gilberts brother, Paul Niva that lives in Maunu. He served us coffee, tea and homemade coffee cheese. It was very nice and we listened to stories about how life in a northerly village could appear. You could say, it's a little bit like the Wild West compared to life in the south of Sweden.
Later we showed our car and we also took a look at Gilberts old beauty that stood on long time parking between some trees.
Later on the evening we drove back to Gilbert. Micke and Martin got them selves a shot. In the midnight sun we then drove over to Finland for a short visit on a hotel with a nice view of the area. I tried the Finnish soft drink "Smurfi"!

Click on the image to see a movie when we drive over the Finnish border.
/Johan