Resting day in Karesuando

Martin and me have been out on sightseeing in Karesuando today together wit Gilbert and hes friend Håkan Nilimaa. Micke has taken it easy at Gilberts home. At first, we went to Karesuando knife factory. Martin wanted a new quality knife instead of his cheap plastic one. There were lots of various sorts like fishing knives, abdomen openers and whittle knives. At last Martin purchased a standard knife that he has already named "The fox".

We continued to Håkan's summerhouse where he has two reindeers together with his father. We went in to the pen and helped feed them. It was fun to come so close to the reindeers. We then drove up to the mountain "Karevaara". The road was bumpy and had dense herbage on the sides – almost like a jungle. We had a nice view of Karesuando when we came up.

Håkan told us an interesting story about how he travelled to Norway in his youth with a Volvo PV and got lots of chicks.

We are now home at Gilberts house again and he has bought "Gurvha" (smoked reindeer meat) that Martin is frying. To morrow we are going to travel a far distance down to Boden.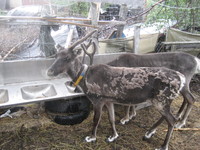 Click on the image to see a film when we are looking at the reindeers and the view of Karesuando.
/Johan