We washed our clothes at Gilbert's yesterday. When the clothes was wet and needed to dry, he showed us the Karesuando drier. You hang the clothes on a ceiling fan that rotates the clothes during the night.
It was time to say good-bye to Gilbert and Karesuando and move on south. The Norwegian television channel 2 came and made reportage about our trip. About 0930 we had the engine running and started going south-east on national highway 99. The first couple of miles, we had one of the reporters with us in the car. They were really nice and impressed by the car. However, we decided not to give to many secrets about the wood gas system to the Norwegians. :-)
Road 99 was in really bad condition. It was more like a logging road than a national highway on some places. At least it was no risk for "wood hang". After a while we saw a sign with the words "Desert graveyard". We drove of the main road and about 5 kilometres in to the forest. Then the road became really bad and we had to start walking. First we came to some small gravestones leaning against the trees. Further in we found the real graveyard. There was a nice view over the river to Finland.
In Pajala we met Gilberts brother who is a bus driver on road 99. We have seen many nice old trucks on the road. One of them was a Scania –76. We're now on road E10 on our way to Boden.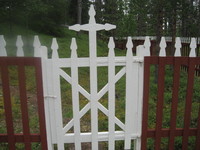 Click on the image to see a film when we are visiting the desert graveyard in Akamella
/Johan