Wood gas tractor

I decided to convert my –63 years David Brown diesel tractor to wood gas. The tractor is used for baling hay and planting potatoes on my famely's small farm in Dalarna. The goal is to do the farming as carbon neutral as possible this year by running on wind fallen wood from our forest properties.

I have dreamt of a wood gas tractor since we stopped in Hörby on the trip last summer and tried the Fordson Major with a wood gas system. I like the idea to replace fossil diesel fuel with wood gas. It will create a carbon neutral and environmental friendly use if the wood is logged in a correct way and new trees are planted.

There are more benefits by doing the conversion. The exhausts will be fare more cleaner on wood gas than on diesel fuel even tough it's an old tractor. By using an old tractor, there will be a lot of energy saved that would have been consumed in manufacturing of a new tractor.

The Toyota car was too new to register with wood gas in Sweden, so I decided to move it's wood gas system on to the tractor. I scaled down and modified the cyclone, filter and cooler to make them fit and then mounted them.

The big challenge on this project was the ignition. There are two ways of igniting the gas/air mix on a diesel engine:
1. Ignition with diesel
The diesel injection system is modified and set so a small amount of diesel is injected to ignite the fuel mixture. The diesel consumption is then decreased to ca 15%.

2. Ignition with sparkplugs
The diesel injection system is replaced with a spark ignition system. The engine will run on pure wood gas but this requires a bigger operation in the engine.

Since I find a diesel engine with sparkplugs pretty cool and want to get rid of the stinking diesel fuel, I decided to go for way 2. The toughest part was to find an anticlockwise distributor for a 3- or 6-cylinder engine to get the right ignition sequence and pre timing for my engine. At last I found one from an old Volvo 164 with a B30 engine.

I made the connection between the diesel pump shaft and the distributor with a bolt head and a box key. The bolt head was welded to the shaft and the box key was welded to the distributor's axel.

The wood gas conversion took nine days and I made the first test run yesterday evening. The engine started almost immediately and ran like a dream! There are a few small adjustments left to do before she's ready for the acres.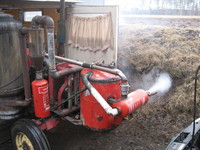 Click here to see a film from the first start on wood gas
/Johan