Testing the tractor

The tractor is now ready for action. I would like to have a speed-governor to make the revs more stable, but itís ok for now.

I have been testing the tractor in various ways; driving off road, connecting devices and driving on the road. It works fine and feels strong. But you can feel that the grip on the rear wheels has decreased because of the heavy filter in the front.

Next step in the project will be to collect logs and build up a fuel supply.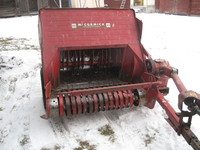 Click here to see a film from a test with the hay bailer.
/Johan