Fertilizing

Snow has melted again and it's time to fertilize the land. The farm is connected to "Krav", an organisation that certifies and inspects organic farming and food production. Being connected to Krav allows us to use their symbol for organic farming on our products and it attracts costumers.

Krav prohibits the use of commercial fertilizer. There are good alternatives, but they are more expensive. We tried two sorts of pellet based fertilizer from the fabric "Binadan" this year: Binadan-Blue for the potatoes and Bindan-Red for the grassland.

Binadan-Red is made out of chincken manure while Binadan-Blue is made of chicken manure, animalic and food by-products.

Spreading the concentrated Binadan-pellet was easy with the old commercial fertilizer-broadcaster. It took two hours to spread one ton of fertilizer. The fuel consumption decreased to 30 litres wood / hour compared with 60 litres / hour for harrowing.

I harrowed the land once when done with the fertelizing. We will plant potatoes and seed this weekend if the weather admits.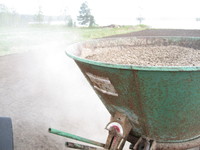 Click here to see a film from the fertilizing.
/Johan