Planting potatoes

I removed ash from the system and filled some coal this morning. The producer uses very small amounts of coal, which is nice because the maintenance-intervals become long. The black ash contains high amounts of uncombusted and unhealthy particles. Therefore I take care of it and put it in a fire to do a second combustion with more air added. In that way the particles get destroyed.

I borrowed my motherís cousinís potato-planter in the neighbor-village. I used vegetable oil to lubricate the feed-chains. It feels a lot better than using mineral oil that could poison the potatoes and ground.
We filled the planter with Matilda-potatoes and started the planting. I drove the tractor and Jane sat on the back of the potato-planter and corrected the feed-chains.

The small Matilda potatoes lasted very long. We made 24 rows of Matilda and the two bigger sacks of Sava almost lasted for two rows.

This is the first year that we use this field for potatoes and it will be exciting to see how it goes. There will surely be some weed, but worse is the wireworm. However, the wireworm makes most damage the second to third year.

We are now going to have some baked potatoes again and revel the look of todayís work.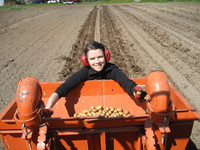 Click here to see a film from the potatoe-planting.
The tractor used 20 litres wood / hour during the planting.
/Johan