Sowing hay

Hello!
Johan asked me to write about when I helped him sow a field of hay. This was my first time driving a tractor, well even my first time driving a carbon neutral power-driven vehicle, and I must say it was fun!

First we had to bring out the sowing machine from the barn and prepare it. Johan cleaned the machine and then oiled the chains and gears using olive oil. By using olive oil we avoided getting poisonous oil on the seeds and on the ground. Then I filled the seed containers on the machine with grass seed. The grass or hay will be ready to harvest next year. It will then be used as horse food.

When all the preparations were done, it was time for me to start the wood gas engine. It was a bit more complicated than starting a regular petrol engine. The tough part was to find the right mixture of air and producer gas to get the engine running. But with a little help from Johan, you know he has a sure instinct for this, I finally made it. The engine was running pretty well and I could do my premier sowing. Now I look forward to watch the hay grow and the ground turn from brown to green.

/Jane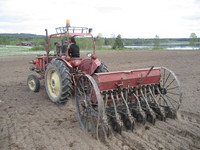 Click here to see a film from the sowing.