The car has run much better than we expected. We came to hours earlier to Hammerdal than we planned – 18:00. We have been nicely met by Lars and Erik Lindroth. We have been looking at their Wolksvagen pickup with a producer gas system and exchanged toughts and experiences.
During the later part of the afternoon the brake started malfunctioning, running hot and creating vibrations. Erik and Micke went looking in some bushes and found a rear axel with a matching brake. After some fixing and rebuilding of the brakes attachment we could mount it and the car is now on all four wheels again. I have been cleaning the filter – a dirty thing that shows the charm with wood gas systems.
To morrow we are going to load some wood that Lars has given to our expedition. Then we will go to Arvidjaur. Now we are going to eat and then a good night sleep is waiting.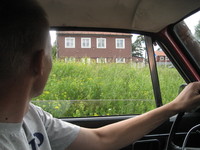 Click on the picture to see a film when we are approaching Österund
/Johan